Organic Cotton Crew Sock - Ragg
Maggie's Ragg Socks provide a relaxed, comfy fit with soft organic cotton and a loose knit. Perfect for an everyday casual sock.
Fit: Relaxed, comfy
Everyday comfort and durability
Year-round mid-weight
Made in North Carolina USA
Contents
88.3 Organic Cotton, 11.3% Nylon, .4% Spandex
Washing Instructions
Machine Wash Warm, Tumble Dry Low.
Size Chart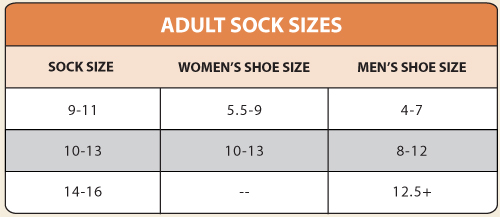 REAL FAIR TRADE FROM FARM TO FINISH
TRUE SUSTAINABILITY
Organic farming practices, adhering to organic processing standards, and minimizing our carbon footprint by producing only within the Americas, Maggie's is a leader in textile sustainability.
REAL FAIR TRADE
Direct contracts with each of our producers, pre-payments for seed deposits, support of small family mills and worker-owned cooperatives; since our founding, Maggie's has walked the talk of Real Fair Trade.
RICH HERITAGE
For over 22 years, Maggie's has been committed to the fair treatment of workers while making accessories and clothing from Organic fibers.
COMPLETE TRANSPARENCY
Meet the producers in our supply chain and hear their stories; take comfort in complete disclosure of contents and organic certificates for each of Maggie's products.
What Our Customers Say
Write Review
Best sock ever!

Posted by Rhonda C on 4th May 2018

I found a pair of these in a hiking store in NM. I just wanted a lounge around sock, cause my feet get cold. I bought the 9-11 size, I am an 11 and they fit perfectly. And sometimes my feet and ankles are swollen from long days so I thought they seemed to have a lot of stretch. OMG, yes! They stretch out and get so comfy. So I came to the website and bought the two other colors, and plan to buy more when I wear out these three that I have. When you wash them they constrict and look smallish again, but don't worry. They will stretch back and feel so good and soft and warm. I love these so much. I highly recommend these socks.