Organic Cotton Cushion Crew - 6 Pak
Organic Cotton Cushion Crew - 6 Pak
Maggie's Organic Cotton Striped Cushion Crews take all-day comfort and hip style to a new level! Plush padded foot-bed cushions each step; yet thin enough for dress duds. Versatile color range and simple stripes for everyday wear. Save when you buy 6 pairs of the same color!
*We are temporarily out of several colors of our Best-selling Cotton Crew Socks, especially in the our 10-13 size. Please know we are working diligently to remedy the situation and expect to be back in stock within a couple of weeks. We apologize for any inconvenience.* 5/4/2018
Fit: Gently snug & cushy
Built-in cushion foot like walking on air
New roll-top stays up without binding
Dyed and knit in North Carolina USA
Contents
77% Organic Cotton, 21% Nylon, 2% Spandex
Washing Instructions
Machine Wash Warm, Tumble Dry Low. For best results, wash inside out
Size Chart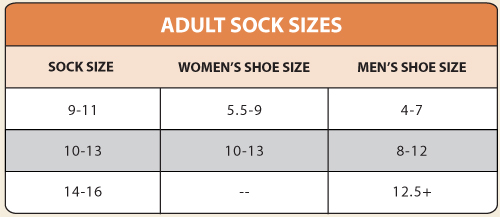 REAL FAIR TRADE FROM FARM TO FINISH
TRUE SUSTAINABILITY
Organic farming practices, adhering to organic processing standards, and minimizing our carbon footprint by producing only within the Americas, Maggie's is a leader in textile sustainability.
REAL FAIR TRADE
Direct contracts with each of our producers, pre-payments for seed deposits, support of small family mills and worker-owned cooperatives; since our founding, Maggie's has walked the talk of Real Fair Trade.
RICH HERITAGE
For over 22 years, Maggie's has been committed to the fair treatment of workers while making accessories and clothing from Organic fibers.
COMPLETE TRANSPARENCY
Meet the producers in our supply chain and hear their stories; take comfort in complete disclosure of contents and organic certificates for each of Maggie's products.
What Our Customers Say
Write Review
Best socks EVER!

Posted by Laura V on 13th Nov 2019

I have purchased a lot of socks over my lifetime, but none that I can recall making my feet feel as nice as these socks do! I have pretty big feet (size 10), which also means I need larger socks than usual. The women's size 10-13 fits perfectly and are super comfortable, have nice stretch, wash beautifully, and are nice looking besides.

Life's too short not to have happy socks

Posted by Fr Gary on 21st Feb 2019

Socks are a necessity to good foot health; but who says one cannot have fun wearing them. As a priest, I wear vestments with the color of the season, so why shouldn't my socks also reflect it: Green for Ordinary time, Red for Pentecost and Good Friday, Purple for Advent and Lent, and White for Easter. Maggie's Organics have all the liturgical colors plus it's all for a good cause. Buy your priests and yourself some colorful socks and celebrate God's joy.

I love these socks!

Posted by Margee on 30th Aug 2018

They are very comfortable and are not tight. We'll see how they hold up over time. I just need to remember to turn them inside out before washing!

Very comfortable!

Posted by Christina on 7th May 2018

I'm on my feet a LOT; I work as a massage therapist (I remove my shoes while I'm working), I walk almost everywhere, and I also love hiking. These socks are the most supportive and comfortable socks I've ever worn, and I have worn (and worn *out*) a *lot* of socks. I'm so happy I went ahead and got the 6-pack, and I'm so happy they come in purple.

So comfy

Posted by T Tang on 30th Jan 2018

Got the 6 pk cotton cushion crew for my husband. He loves them !!

Comfort

Posted by Unknown on 27th Jan 2018

Size is small. To small fro may husband and perfect for me. Whereas, I order size 10-13 (shoes are 9).


Great socks

Posted by Eleanor Dougherty on 23rd Jan 2018

Comfortable, fits well, cushiony, smooth breathable cotton and wool!

I love them

Posted by Mary on 27th Nov 2017

They are the best socks ever. So comfortable, and they last a long time.

Good quality socks

Posted by Unknown on 30th May 2016

These socks are organic and don't smell chemically upon arrival. A staple. Of course pricier than non organic. I appreciate the occasional specials.