Organic Cotton Diabetic Socks
Organic Cotton Diabetic Socks
Maggie's Organic Cotton Diabetic Socks are constructed with comfort in mind. Knitted in such a way to allow maximum circulation without falling down, they are non-binding and extra stretchy in the legs. Seamless toes and plush cushion foot give added comfort. Made in North Carolina by the grandson of the man who developed the first Diabetic Sock. American ingenuity at its best!
Seamless toe
Extra stretch in leg
Plush cushion foot
Super soft organic cotton
Non-binding stretch
Maximum circulation without falling down
Made in North Carolina USA
Contents
89% Organic Cotton, 8% Nylon, 3% Spandex
Washing Instructions
Machine Wash Warm, Tumble Dry Low
Size Chart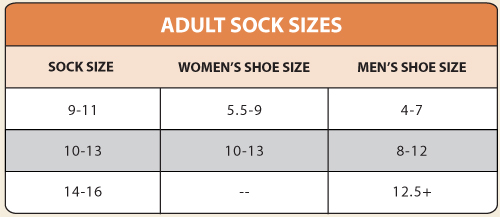 REAL FAIR TRADE FROM FARM TO FINISH
TRUE SUSTAINABILITY
Organic farming practices, adhering to organic processing standards, and minimizing our carbon footprint by producing only within the Americas, Maggie's is a leader in textile sustainability.
REAL FAIR TRADE
Direct contracts with each of our producers, pre-payments for seed deposits, support of small family mills and worker-owned cooperatives; since our founding, Maggie's has walked the talk of Real Fair Trade.
RICH HERITAGE
For over 27 years, Maggie's has been committed to the fair treatment of workers while making accessories and clothing from Organic fibers.
COMPLETE TRANSPARENCY
Meet the producers in our supply chain and hear their stories; take comfort in complete disclosure of contents and organic certificates for each of Maggie's products.