Organic Cotton Knee Hi Sock - Love
Organic Cotton Knee Hi Sock - Love
Maggie's Knee Hi Socks are a true "stay-up" knee
length, lightweight, and super stretchy. Made from durable super-soft Organic Cotton, that provides the perfect classic comfort day-after-day! Knit-in message over toes, in 3 variations: Black (love is love), Purple (love always),
and Navy (choose Love).
Fit: Stretchy, snug
77.4% Organic Cotton
True stay-up knee length
Lightweight & super stretchy
Knit-in design that won't fade
Made in North Carolina USA
Contents
77.4% Organic Cotton, 20.8% Nylon, 1.8% Spandex
Washing Instructions
Machine Wash Warm, Tumble Dry Low
Size Chart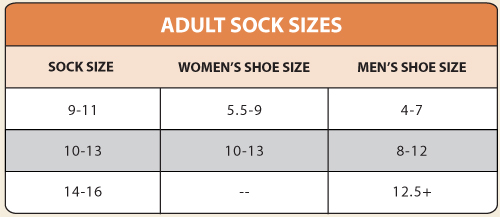 REAL FAIR TRADE FROM FARM TO FINISH
TRUE SUSTAINABILITY
Organic farming practices, adhering to organic processing standards, and minimizing our carbon footprint by producing only within the Americas, Maggie's is a leader in textile sustainability.
REAL FAIR TRADE
Direct contracts with each of our producers, pre-payments for seed deposits, support of small family mills and worker-owned cooperatives; since our founding, Maggie's has walked the talk of Real Fair Trade.
RICH HERITAGE
For over 26 years, Maggie's has been committed to the fair treatment of workers while making accessories and clothing from Organic fibers.
COMPLETE TRANSPARENCY
Meet the producers in our supply chain and hear their stories; take comfort in complete disclosure of contents and organic certificates for each of Maggie's products.
What Our Customers Say
Write Review
Best Socks Ever

Posted by Unknown on 31st Oct 2019

The purple socks are the prettiest and sweetest socks I have ever seen. The color is stunning and I love the hearts and the message. Also I hate socks that are too tight and I was worried these might be when I saw them but they stretch to fit in the most perfect way so that they are not too tight at all yet they fit nicely without hanging. These socks are amazing and so well made. I can't believe how perfect the fit is. I want to buy 20 more pairs are wear just them forever.

Beautiful socks

Posted by Joy on 17th Oct 2019

I'm completely happy with these beautiful Maggie's socks, and the love message is a bonus.

The Black with the love is love

Posted by Unknown on 13th Jun 2019

The Black love is love socks have pink hearts. We thought they were red but are pink. The socks are amazingly comfortable!!!!!!!!! They do not dig into your calves. I could barely tell I was wearing socks they are just perfect! I highly recommend these socks!!!!
Customers also viewed