Organic Cotton Ragg Socks - 4 Pair Set
Organic Cotton Ragg Socks - 4 Pair Set
Maggie's Ragg Socks provide a relaxed, comfy fit with soft organic cotton and a loose knit. Perfect for an everyday casual sock. Includes 4 Pair - 1 of each color Chestnut, Navy, Purple and Olive.
NOTE: This product and all variety paks DO NOT QUALIFY for any additional promos as they are already priced at significant savings. Thank you for your understanding.
Fit: Relaxed, comfy
Includes 4 Pair - 1 of each color Chestnut, Navy, Purple and Olive.
Everyday comfort and durability
Year-round mid-weight
Made in North Carolina USA
Contents
88.3 Organic Cotton, 11.3% Nylon, .4% Spandex
Washing Instructions
Machine Wash Warm, Tumble Dry Low.
Size Chart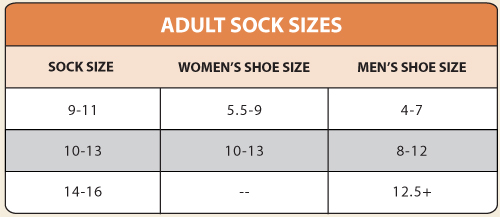 REAL FAIR TRADE FROM FARM TO FINISH
TRUE SUSTAINABILITY
Organic farming practices, adhering to organic processing standards, and minimizing our carbon footprint by producing only within the Americas, Maggie's is a leader in textile sustainability.
REAL FAIR TRADE
Direct contracts with each of our producers, pre-payments for seed deposits, support of small family mills and worker-owned cooperatives; since our founding, Maggie's has walked the talk of Real Fair Trade.
RICH HERITAGE
For over 27 years, Maggie's has been committed to the fair treatment of workers while making accessories and clothing from Organic fibers.
COMPLETE TRANSPARENCY
Meet the producers in our supply chain and hear their stories; take comfort in complete disclosure of contents and organic certificates for each of Maggie's products.
What Our Customers Say
6

product reviews

Write Review
Ohhh WOW!!!

Posted by Jill on 10th Jul 2020

I have been waiting for so long for you socks, where have you been my whole life!! Soft, squishy, scrunchy, My new favorite socks to wear whenever I need comfort and happiness

Coolness!

Posted by Kari on 30th Jan 2020

Finally, socks I can wear comfortably! Thank you Maggie! My feet suck, have Lyme disease n a dozen others it created, now wheelchair bound, cuz sh*t happens, but we adapt...But these socks, no chemicals, so soft, n SO comfortable, take just a bit of the pain away, awesome! So I want to send my love, my appreciation, for all you do, I am grateful, thank you! Much peace n love n light, Kari ♡

go to sock

Posted by Mary on 13th Dec 2019

soft and loose

Soft, Cozy, Pretty, Quality :)

Posted by Shay on 19th Nov 2019

These socks are so soft and cuddly. The quality seems exceptional. I bought them to keep my feet cozy at home this winter but may get more to wear out. The colors are soft and pretty- a little lighter and more subtle than the pictures show- at least that's how mine came but it's not a big deal. Definitely recommend.

Luv these Socks!

Posted by Unknown on 11th Nov 2019

When ordering on line your never sure of what your getting.! The socks are soft and comfortable=) I'm glad I took a chance because I will be ordering more for Family and myself..

WOWZA‼️‼️

Posted by WendyR on 10th Nov 2019

I WEAR THESE SOCKS EVERY WORK DAY on a production packing facility where I stand 8 hours per shift 40 hours or more per week. So perfect I now have many many pairs so I no longer run out before laundry day. Maggie's Magic