Organic Cotton Snuggle Sock
Snuggle up and feel good in Maggie's softest, cushiest sock yet made from Organic Cotton. Plush cushion from the tip of the toe to the top of the sock and an expandable comfort roll top make this the best choice for hanging out and relaxing.
Fit: Stretchy, runs big
Our softest organic cotton cushion yet
Perfect sock for lounging around
Wear up or cuff down
Made in North Carolina USA
Contents
89% Organic Cotton, 10% Nylon, 1% Spandex
Washing Instructions
Machine Wash Warm, Tumble Dry Low
Size Chart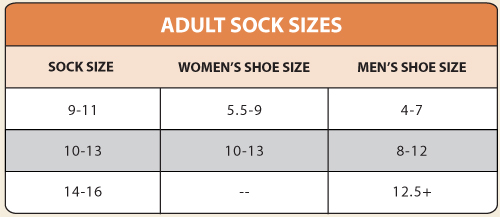 REAL FAIR TRADE FROM FARM TO FINISH
TRUE SUSTAINABILITY
Organic farming practices, adhering to organic processing standards, and minimizing our carbon footprint by producing only within the Americas, Maggie's is a leader in textile sustainability.
REAL FAIR TRADE
Direct contracts with each of our producers, pre-payments for seed deposits, support of small family mills and worker-owned cooperatives; since our founding, Maggie's has walked the talk of Real Fair Trade.
RICH HERITAGE
For over 22 years, Maggie's has been committed to the fair treatment of workers while making accessories and clothing from Organic fibers.
COMPLETE TRANSPARENCY
Meet the producers in our supply chain and hear their stories; take comfort in complete disclosure of contents and organic certificates for each of Maggie's products.
What Our Customers Say
Write Review
Wonderful socks!

Posted by R. Foster on 12th Jul 2018

I live where it's hot, and these are a bit thick but that thickness also provides an excellent cushion. I have thick ankles and these don't strangle my ankles. They are so incredibly, perfectly soft.

Cozy, so soft, natural

Posted by CatmomVT on 5th Jun 2018

I got the purple socks and wear them every night. These socks are what my family will be getting for gifts this year! So yummy feeling, so much better in organic cotton.

Truly "snuggle-y"!

Posted by Christina on 7th May 2018

I have hypothyroidism and I'm typically colder than the average person. If the weather and the bedclothes are cold, I can't fall asleep until I get my feet warm. These are perfect; very soft, very cozy, but breathable and not too warm. These will also be my go-to cozy lounging socks on colder days. And I'm obsessed with purple.

Best cotton socks

Posted by Wicked Witch of the East on 19th Mar 2018

I love the way these socks feel. They are cozy and soft and are warm without being too hot. The stripes are excellent. I feel like a house fell on me.

super snuggly

Posted by M. Colpaart on 10th Dec 2014

these sox are perfect for warming cold winter feetsies

I love these snuggle socks!

Posted by Diane on 9th Dec 2014

Good quality socks!

Perfect Christmas gift!

Posted by Jeanne on 5th Dec 2014

These look like great Christmas gifts for a few people on my list. When they arrived, I can see that they're up to Maggie's high standards for quality, and the recipients will love the colors, I think. Maggie's stuff always lasts really long for me, so I expect my friends to get a lot of use out of these cuddly socks.
Customers also viewed