Organic Cotton Sport Ankle - 6 Pak
Organic Cotton Sport Ankle - 6 Pak
Maggie's Organic Cotton Sports Socks are designed for active cyclists and joggers with a lightweight top, and cushioned bottom to keep the sock put and the foot dry and cool. Our first "natural" performance sock. Buy 6 pairs of the same color and save!
Fit: Runs big, wide toe
Best-seller for runners since 2005
Comfortable webbed Organic Cotton top
Moisture-wicking Repreve construction where needed
New wear-tested ankle height for secure fit
Made in North Carolina USA
Contents
75.4% Organic Cotton, 13.72% Repreve, 9.68% Nylon, 1.2% Spandex
Washing Instructions
Machine Wash Warm, Tumble Dry Low
Size Chart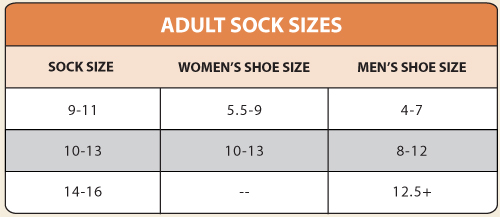 REAL FAIR TRADE FROM FARM TO FINISH
TRUE SUSTAINABILITY
Organic farming practices, adhering to organic processing standards, and minimizing our carbon footprint by producing only within the Americas, Maggie's is a leader in textile sustainability.
REAL FAIR TRADE
Direct contracts with each of our producers, pre-payments for seed deposits, support of small family mills and worker-owned cooperatives; since our founding, Maggie's has walked the talk of Real Fair Trade.
RICH HERITAGE
For over 22 years, Maggie's has been committed to the fair treatment of workers while making accessories and clothing from Organic fibers.
COMPLETE TRANSPARENCY
Meet the producers in our supply chain and hear their stories; take comfort in complete disclosure of contents and organic certificates for each of Maggie's products.
What Our Customers Say
Write Review
Great quality, ethically made sport socks!

Posted by Angela on 10th Aug 2019

These socks are very thick which is perfect for playing sports (especially if you are prone to blisters or calluses). They never slip down and they are also very breathable. I love that these socks are not only great quality, but also ethically made with organic materials! The price is pretty high for socks, but I think it is well worth it.

Worth it!

Posted by J on 18th Apr 2019

Most comfortable sport socks I've tried. I went through more than a few brands last year. These are far better!! Worth the price. They actually looked too small, but fit perfect. I'm happy!

Sleep socks!!!

Posted by M J from Kentwood, MI on 7th Oct 2018

Not for sports here - for sleeping! If you like a soft, warm feeling on your (cold) feet while you sleep, as usual, you cannot beat Maggie's Organics. The best ever. Try them. NOW!!! Get the six pack and $$$ave!

Great for the winter!

Posted by Marie on 5th Oct 2018

Soft, warm and very comfortable. I use them in the winter instead of house shoes.

Fave sock

Posted by Unknown on 26th Jun 2018

The cushion is the best part , the main reason I buy these. I have arthritis and plantar fasciitis.

Love these socks

Posted by Unknown on 7th Jan 2018

Nice and warm - comfy and last and last.

Very good value

Posted by RGF on 27th Jan 2017

Comfortable socks...I find the 6-pack offering to provide a high-quality sock at a very good price!

Comfortable sock!

Posted by Unknown on 21st Sep 2016

Love these socks! Cushioned on the bottom. Be sure to get the correct size. Sock size does not equal shoe size. Use these for biking, hiking, everyday wear.

Best socks ever

Posted by Jason on 15th Aug 2016

These socks are the most comfortable socks I've ever owned. Had 1 pair for 2 years now and they're still perfect. Finally decided after all this time to buy a 6-pack and wow... they are so comfortable. I can't describe how appreciative I am of these organic socks. God is good! Millions of people go without socks because they are so poor but God has blessed me with 7 pairs of these. Truly, He is good to me. I appreciate the quality of these and the price is worth it.