Organic Wool & Cotton Knee Hi
Organic Wool & Cotton Knee Hi
Maggie's Wool & Cotton Knee Hi Socks are made in the USA from Organic Merino Wool & Organic Cotton. Enjoy the moisture-wicking comfort of our lightweight dress sock available in three unique patterns that wrap around the leg and top of foot.
Our organic merino wool yarn is washable - treated with a special patented chlorine-free anti-felt treatment, which is CERTIFIED TO INTERNATIONAL ORGANIC STANDARDS (GOTS).
Fit: Gently snug
Mid calf height
Lightweight & stretchy
Environmentally-safe washable Organic Wool & Organic Cotton

Knit in pattern never fades
Contents
Diamond Roast: 38.5% Organic Merino Wool, 32% Organic Cotton 27.5% Nylon, 2% Spandex
Argyle Wine: 38.5% Organic Merino Wool, 31.4% Organic Cotton 28.1% Nylon, 2% Spandex
Sweater Navy: 42.1% Organic Merino Wool, 28.3% Organic Cotton 27.7% Nylon, 1.9% Spandex
Washing Instructions
For Best Results: Machine wash inside out and line dry. Your Wool socks will stay soft and stretchy for years.
Size Chart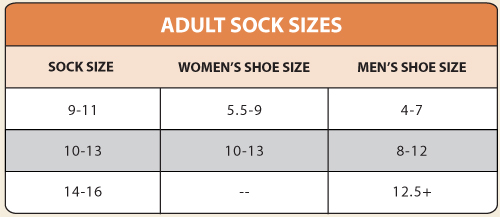 REAL FAIR TRADE FROM FARM TO FINISH
TRUE SUSTAINABILITY
Organic farming practices, adhering to organic processing standards, and minimizing our carbon footprint by producing only within the Americas, Maggie's is a leader in textile sustainability.
REAL FAIR TRADE
Direct contracts with each of our producers, pre-payments for seed deposits, support of small family mills and worker-owned cooperatives; since our founding, Maggie's has walked the talk of Real Fair Trade.
RICH HERITAGE
For over 26 years, Maggie's has been committed to the fair treatment of workers while making accessories and clothing from Organic fibers.
COMPLETE TRANSPARENCY
Meet the producers in our supply chain and hear their stories; take comfort in complete disclosure of contents and organic certificates for each of Maggie's products.
Customers also viewed