Maggie's Wool Dress Socks are Made in the USA from Organic Merino Wool. Enjoy the moisture-wicking comfort of our mid-calf, lightweight dress sock and stay sharp all day long.
Our organic merino wool yarn is washable - treated with a special patented chlorine-free anti-felt treatment, which is CERTIFIED TO INTERNATIONAL ORGANIC STANDARDS (GOTS).
Fit: Looser fit, runs big
Mid-calf length
Environmentally-safe washable Organic Wool
Lightweight, flat knit
Absorbs and wicks up to 35% moisture
Made in North Carolina USA
Contents
65% Organic Merino Wool, 33% Nylon, 2% Spandex
Washing Instructions
For Best Results: Machine wash inside out and line dry. Your Socks will stay soft and stretchy for years.
Size Chart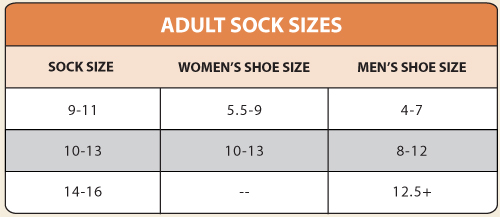 REAL FAIR TRADE FROM FARM TO FINISH
TRUE SUSTAINABILITY
Organic farming practices, adhering to organic processing standards, and minimizing our carbon footprint by producing only within the Americas, Maggie's is a leader in textile sustainability.
REAL FAIR TRADE
Direct contracts with each of our producers, pre-payments for seed deposits, support of small family mills and worker-owned cooperatives; since our founding, Maggie's has walked the talk of Real Fair Trade.
RICH HERITAGE
For over 22 years, Maggie's has been committed to the fair treatment of workers while making accessories and clothing from Organic fibers.
COMPLETE TRANSPARENCY
Meet the producers in our supply chain and hear their stories; take comfort in complete disclosure of contents and organic certificates for each of Maggie's products.
What Our Customers Say
Write Review
Outstanding, dreamline socks

Posted by Sandra on 11th Dec 2019

I bought these organic merino wool socks to go with business attire. I find they are like walking on clouds, they are so soft, with just the right amount of elastic to keep them up. They're warm, too, but just right. I like to think of them as my little organic secret when I'm otherwise clad head to toe in synthetic suits, and that makes me smile.

Softest wool socks

Posted by Unknown on 27th Nov 2019

Absolutely loved these wool socks. Felt like I was wearing cotton pads on my feet, no itchiness whatsoever.

Just Perfect

Posted by Mofry on 11th Feb 2019

These socks are wonderful; thin enough to be a dress sock, but very warm -- a perfect combination!

Great Wool Socks

Posted by Sara on 7th Dec 2018

I'd purchased several of these locally and decided I wanted more, so decided to order from the Maggie's website. These are great socks! Good fit; snug without constricting. Stripes are very cute. Only complaint is that the photo of the blue striped socks shoes a light blue (in both photos) and one photo shows the stripes as very thick. Not sure if this is an older photo but what I received was a navy and grey striped sock, with thin stripes. Still really like them, just not what I'd planned on.

Comfy and nice thin weight - not black

Posted by Unknown on 13th Nov 2018

These are great socks and well priced for what they are. The length is good with shoes and short boots, the top band is great and doesn't cut off circulation like so many socks. My only criticism is they are NOT black. They are very dark brown. So they don't work well with black pants and shoes. I wear them with short boots so not a problem, but beware. The gray is a nice, very slightly bluish shade of gray.

The best!

Posted by Frances on 11th Nov 2018

Soft and strong, smooth and supple. Much better than any other wool dress sock I've ever tried.

BLACK 9-11 SOCKS

Posted by Elaine D on 4th Oct 2018

I just received these & my main concern was fit on a somewhat wider leg - These are snug without being too much so. The wide band at the top is comfy & the material is not too thin or thick so will fit easily in my shoes. I haven't washed them yet, but I am sure they will be fine with my wool wash & line dry. I have a very wide size 8 foot & there is room in the sock. They fit well - not tight on the feet.

Very satisfied.

Posted by Ken Philo on 22nd Jan 2018

Regular wool makes me itch, but these organic wool socks don't bother me at all. They're warm and comfortable, so much so that I ordered some more.