Organic Wool Holiday Snuggle Sock
Organic Wool Holiday Snuggle Sock
Maggie's Organic Holiday Wool Snuggle Socks feature whimsical winter-themed designs that are perfect for the holiday season! Made from Soft Organic Merino Wool with a thick cushion throughout the sock, your feet will keep on stepping in comfort.
Our organic merino wool yarn is washable - treated with a special patented chlorine-free anti-felt treatment, which is CERTIFIED TO INTERNATIONAL ORGANIC STANDARDS (GOTS).
Fit: Stretchy, runs big
Relaxed, stretchy comfort top
Environmentally-safe washable Organic Wool
Thick cushion throughout
Soft, organic merino wool
Made in North Carolina USA
Contents
74% Organic Merino Wool, 22% Nylon, 2% Organic Cotton, 2% Spandex
Washing Instructions
For Best Results: Machine wash inside out and line dry. Your Wool Snuggle Socks will stay soft and stretchy for years.
Size Chart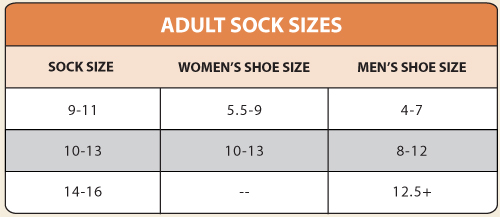 REAL FAIR TRADE FROM FARM TO FINISH
TRUE SUSTAINABILITY
Organic farming practices, adhering to organic processing standards, and minimizing our carbon footprint by producing only within the Americas, Maggie's is a leader in textile sustainability.
REAL FAIR TRADE
Direct contracts with each of our producers, pre-payments for seed deposits, support of small family mills and worker-owned cooperatives; since our founding, Maggie's has walked the talk of Real Fair Trade.
RICH HERITAGE
For over 26 years, Maggie's has been committed to the fair treatment of workers while making accessories and clothing from Organic fibers.
COMPLETE TRANSPARENCY
Meet the producers in our supply chain and hear their stories; take comfort in complete disclosure of contents and organic certificates for each of Maggie's products.
What Our Customers Say
Write Review
Warm and Wonderful

Posted by Susie on 12th Jan 2020

The Holiday Socks are cozy, comfortable, soft and well-made. They make my feet very happy!

So soft

Posted by Unknown on 21st Dec 2019

These socks are incredibly soft and well made! They made the perfect gift but I will be ordering more for myself.

BEST SOCKS

Posted by VM on 2nd Dec 2019

These are my favorite socks.
Very comfortable and warm.
They're cushy but not too bulky.
Great gift.

Warmth with style

Posted by Eleanor Dougherty on 11th Feb 2019

The best for our subzero temperature. Love the style. Not boring

Cute and Cozy

Posted by Dee on 29th Jan 2019

These socks are almost as good as rubbing your feet on a live (not man-eating) polar bear.

Softest Socks Ever

Posted by Mary on 28th Jan 2019

These are the most comfortable socks I've ever worn. They are so soft and so warm. After getting two pairs for Christmas, I went out and bought three more. I'll wear them all winter.

Best socks ever!

Posted by Becky on 28th Jan 2019

Maggies Snuggle socks are very well made, cushy and cozy warm. I love them. I have worn them for several years and they still look like they did when I first got them. I wear them all winter long. I walk every morning and they keep my feet comfy warm. They are great!

The Only Socks for Me

Posted by Kathleen on 22nd Jan 2019

For quite a few years, Maggie's Snuggle Socks replaced all socks in my drawer. They are so soft, cushioned, and stay up without binding elastic. I only wish they would come in solid colors too.

My go to socks

Posted by Di on 24th Dec 2018

These are the 3rd and 4th pair of socks of this kind that I have purchased from Maggies. So happy with them. They are the go to socks in my drawer. They are also great in the summer when I go out in my hiking boots. So I don't put them in the cedar chest for the summer. I wear them. My two year old pairs are still in excellent shape. I love Maggies!

Bed time favorite

Posted by Kathy on 8th Nov 2018

I can't survive winter without my bed time snuggle socks! My feet would get so cold, even with heavy flannel sheets and down comforter. Both my husband and I wear these all winter.

Really snuggly

Posted by Phineas the Cat on 19th Mar 2018

I love the way these socks feel on the foot and in the shoe. They are warm but not itchy. Perfect.

best wool socks ever

Posted by Donna in MT on 13th Mar 2018

warm and soft, wash well. Love them.

Socks That Allow Blood Flow!

Posted by Unknown on 28th Dec 2017

The socks are soft, snuggly, and stretchy at the top, so that there is no cutting in on my calves. Comfortable!

Holday socks

Posted by Melanie on 4th Dec 2017

My favorite Maggies socks to date. So soft and snuggly. Got a few pair Dec 2016 and still love them! I machine wash delicate and line dry.

Love

Posted by Lee on 3rd Jan 2017

Love these socks. Would like to request that you add non slip dots on bottom

Cozy Warm

Posted by Unknown on 6th Dec 2016

First time ordering the wool socks, I love them!
Warm, light on foot and non-itchy. I love the holiday designs: cute and fun.
I encourage you to make more designs please.

Cute brown holiday socks

Posted by Kristi on 26th Sep 2016

The name of the color of the socks (French Roast) is more accurate than the picture. They are brown - a nice brown. I look forward to wearing these soft and cute snowflake and reindeer socks when the weather gets cooler!