Organic Wool Killington Hikers - 3 Pak
Organic Wool Killington Hikers - 3 Pak
Maggie's Killington Hiker Socks are our tried-and-true most popular Wool sock! Made from Soft Organic Merino Wool with a thick cushion throughout the sock, your feet will keep on stepping in comfort. Buy 3 pairs of the same color and save!
Our organic merino wool yarn is washable - treated with a special patented chlorine-free anti-felt treatment, which is CERTIFIED TO INTERNATIONAL ORGANIC STANDARDS (GOTS).
Fit: Gently snug
Our best-selling wool sock for years
Environmentally-safe washable Organic Wool
Thick cushion throughout
Absorbs and wicks up to 35% moisture
Made in North Carolina USA
Contents
70% Certified Organic Merino Wool, 29% Nylon, 1% Spandex
Washing Instructions
For Best Results: Machine wash inside out and line dry. Your Killingtons will stay soft and stretchy for years.
Size Chart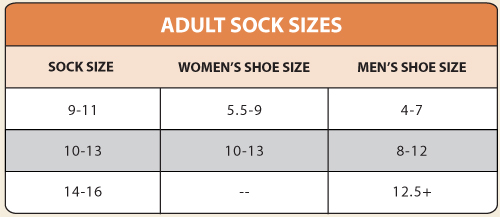 REAL FAIR TRADE FROM FARM TO FINISH
TRUE SUSTAINABILITY
Organic farming practices, adhering to organic processing standards, and minimizing our carbon footprint by producing only within the Americas, Maggie's is a leader in textile sustainability.
REAL FAIR TRADE
Direct contracts with each of our producers, pre-payments for seed deposits, support of small family mills and worker-owned cooperatives; since our founding, Maggie's has walked the talk of Real Fair Trade.
RICH HERITAGE
For over 22 years, Maggie's has been committed to the fair treatment of workers while making accessories and clothing from Organic fibers.
COMPLETE TRANSPARENCY
Meet the producers in our supply chain and hear their stories; take comfort in complete disclosure of contents and organic certificates for each of Maggie's products.
What Our Customers Say
Write Review
Great Socks

Posted by Logan on 29th Oct 2019

Warm, thick, and comfortable. Exactly what I was looking for. Will buy again.

Cozy warm

Posted by Unknown on 4th Feb 2019

Warmest, most comfortable socks I've ever owned.

Best wool socks

Posted by Unknown on 29th Oct 2018

I have purchased Maggie's socks for close to 10 years. I Love them!! So comfortable and the benefit of having organic wool! Keep up the great work, Maggie's!

The best socks anywhere

Posted by James Churches on 28th Feb 2018

Maggie's organic wool socks are the most comfortable, warm socks I have ever owned. The minute I put them on, my feet warm up and relax.

Great Socks

Posted by Dayton Clark on 19th Feb 2018

I have been purchasing and wearing Maggie's wool socks for years. I think they are great.

Great socks

Posted by Unknown on 9th Jan 2018

I wear these every day in the winter, so warm & comfortable!

Wonderful wool socks!

Posted by Miriam Aguirre on 19th Dec 2016

Warm and cozy! Love them!

Awesome

Posted by Denise on 19th Nov 2016

It feels like my feet are being hugged by my mother