Organic Wool Urban Trail Ankle - 3 Pak
Organic Wool Urban Trail Ankle - 3 Pak
Maggie's Urban Trail Socks, made from Organic Merino Wool are perfect for all types of in-town workouts, from the park to the pavement. Maggie's Urbans fit close-to-the-foot and stay in place providing the softest cushion just where you need it and thin breathability where you don't. Buy 3 pairs of the same color and save!
Fit: Snug & slim
The 'go-to' workout sock
Absorbs and wicks up to 35% moisture
Perfect ankle height
Cushion where needed and foot-gripping comfort throughout
Special environmentally-safe washable Organic Merino Wool
Made with love in Alabama USA
Contents
69% Organic Merino Wool, 28% Nylon, 3% Spandex
Washing Instructions
For Best Results: Machine wash inside out and line dry. Your Urbans will stay soft and stretchy for years.
Size Chart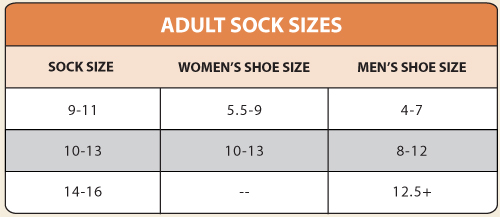 REAL FAIR TRADE FROM FARM TO FINISH
TRUE SUSTAINABILITY
Organic farming practices, adhering to organic processing standards, and minimizing our carbon footprint by producing only within the Americas, Maggie's is a leader in textile sustainability.
REAL FAIR TRADE
Direct contracts with each of our producers, pre-payments for seed deposits, support of small family mills and worker-owned cooperatives; since our founding, Maggie's has walked the talk of Real Fair Trade.
RICH HERITAGE
For over 22 years, Maggie's has been committed to the fair treatment of workers while making accessories and clothing from Organic fibers.
COMPLETE TRANSPARENCY
Meet the producers in our supply chain and hear their stories; take comfort in complete disclosure of contents and organic certificates for each of Maggie's products.
What Our Customers Say
Write Review
Cozy socks

Posted by Unknown on 10th Nov 2018

warm, cozy & comfy with less synthetics!!!!!!!!

One word for the: LOVE

Posted by Cath on 19th Feb 2018

I really love those socks. They're comfortable, geat fit and extra warm.

Good socks

Posted by Unknown on 29th May 2017

I was looking to replace some older socks and was hoping to find a more environmentally friendly sock. These are great for daily wear and without the bulk of a hiking sock. All three colors are great- I have the purple, green, and the black. These are not thick socks - if you're looking for more padding I would recommend the true hiking socks that Maggie's offers

Perfect

Posted by jen on 27th Mar 2017

Soft, comfortable, not too thick.

Best socks ever

Posted by Mary Ella on 26th Sep 2016

Ordinarily I like to shop at the thrift store, but when it comes to socks, Maggie's socks are worth every penny. They last for years. I'm still wearing socks I bought four or five years ago. Plus, they're made out of excellent material, are easy to wash, fit well and make my feet happy. And double plus, I know that no slaves were involved in their manufacture and that the material didn't come at the expense of a healthy environment.

Great socks

Posted by Jess on 30th Apr 2016

These socks are very soft and comfortable. I got them because my feet always get sweaty and I like to walk or ride a bike to work. I don't like having wet feet for the rest of the day at work. With these socks, my feet stayed dry and comfortable all day. I got the purple, and it's a very pretty shade of purple. It is more vibrant than it appears here (at least on my screen.)