Organic Cotton Crew Sock - Tie Dye
Maggie's Organic Cotton Tie Dye Crew Socks is one of our most popular styles; tie-dyed with "BOLD" or "LITE" hues. A great gift or fashion statement! Please note: All of Maggie's tie dyed products are hand dyed. The socks pictured are representative; each pair of socks is unique!
Fit: Gently snug
Everyday comfort and durability
Year-round mid-weight
98% organic cotton
Made in North Carolina USA
Contents
98% Organic Cotton, 2% Spandex
Washing Instructions
Machine Wash Warm, Tumble Dry Low
Size Chart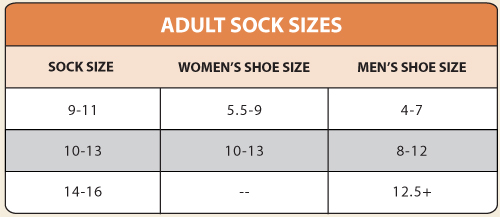 REAL FAIR TRADE FROM FARM TO FINISH
TRUE SUSTAINABILITY
Organic farming practices, adhering to organic processing standards, and minimizing our carbon footprint by producing only within the Americas, Maggie's is a leader in textile sustainability.
REAL FAIR TRADE
Direct contracts with each of our producers, pre-payments for seed deposits, support of small family mills and worker-owned cooperatives; since our founding, Maggie's has walked the talk of Real Fair Trade.
RICH HERITAGE
For over 22 years, Maggie's has been committed to the fair treatment of workers while making accessories and clothing from Organic fibers.
COMPLETE TRANSPARENCY
Meet the producers in our supply chain and hear their stories; take comfort in complete disclosure of contents and organic certificates for each of Maggie's products.
What Our Customers Say
Write Review
Traditional Purchase

Posted by Unknown on 12th Dec 2019

A favorite for myself and even more so as a gift. I have purchased these tie dyed socks for years. They make a unique gift for baby and terrific stocking stuffer.

:)

Posted by Unknown on 13th Nov 2019

My second pair of these, love them

The Best Socks

Posted by Joanne on 12th Sep 2019

I've purchaed Maggies socks before and they FINALLY wore out after literally years of wearing and washing. So thick and comfortable!

Even prettier than the picture

Posted by Heather Romero on 10th Aug 2019

These socks are my favorite! I love them! Very vibrant and pretty. Im a size 8 wide, but I ordered the 10-13 bc I don't like tight socks. But they fit perfect. Thank you!

tie dye socks rock post-surgery

Posted by Unknown on 8th Jun 2019

2 months after surgery my foot is still so swollen that I have to wear my partner's hiking boots instead of my own. Maggie's size 14-16 tie dye socks are super soft and non-constricting, a great comfort when boot socks come off. I can even sleep in them without my foot cramping. Thank you for making them in several sizes!

Comfortable and fun!

Posted by Unknown on 7th Jun 2019

Love the feel of these socks and the colors are so much fun!

Bold Tie-Dye Socks

Posted by Unknown on 21st Apr 2019

My new favorite socks!

Super fun

Posted by Nancy on 28th Mar 2019

Super fun colors! Exceptional quality! Absolutely love them!

Fun socks

Posted by Babbo on 11th Mar 2019

I only wear 100% cotton socks preferably organic. These fill the bill and they are cute.

In L-O-V-E

Posted by Unknown on 28th Jan 2019

I saw Rachel Nguyen from ThatsChic wearing them on her instagram story and fell in love. The tie dye colors are super fun and eye catching. Very comfortable and great quality!

Superb Socks

Posted by Maria on 8th Jan 2019

I've been buying these socks for years. And still have some older ones, still in good shape. Love them, and have bought them for friends as well, so also love them.

Loved the socks

Posted by RKS on 26th Dec 2018

I was very happy with quality of the socks and the colors

Great Lucky Socks!

Posted by JAY KYLE PETERSEN on 31st Oct 2018

I love these socks! Been wearing Maggies's tie dyed socks for over 10 years and always keep a new pair on hand! I wear them beneath my tuxedo, for job interviews and any time I want to just plain fee groovy! Thanks for these great energy socks!

Wow!

Posted by Marina Raye on 26th Oct 2018

My favorite socks! The colors are fun and the feel is great.

Last forever!

Posted by Liz on 17th Oct 2018

I bought some of these socks 13 years ago and have loved them all this time. But, it was time for a new pair since my big toe worked its way through. This new pair seem so plush!

Bold Tie Dyed Socks

Posted by Kathleen on 12th Sep 2018

This is the 2nd pair of Tie Dyed Socks I have purchased.
They are 98% cotton and so comfortable.
They look great with many casual pants. Love them.


The Best!!!

Posted by Jane on 16th Mar 2018

Best, most comfortable and lovable socks EVER!

durable favorites

Posted by s on 4th Nov 2017

I have had these for YEARS. They are always in my laundry each week and really hold their shape and stretch. And the colors stay true. I call them "happy socks" and give them as gifts when friends are going through happy or tough times. (I also wear them to my gyn appointments)

Many colors of love

Posted by Jeremy on 9th Aug 2017

I love these socks.

Comfortable and groovy!

Posted by Scott Samuels on 30th May 2017

These are the only socks that I wear: I love them!

Favorite of the Bunch!

Posted by Unknown on 23rd May 2017

I had bought four crew socks then plus these. I love all of them but these are my favorite since they are tie dye! They are super comfy. Very breathable so your feet do not die of a heat stroke, so less sweaty feet and odor. I recommend the bold since tie dye is meant to be rocked!

Great tie dye socks

Posted by Paula H on 1st May 2017

Love these socks! Been buying them for so many years I can't even recall how long. Love ❤️ the colors. Thank you!!

Warm and wonderful!

Posted by Unknown on 17th Jan 2017

Just laughed out loud when I opened the package. LOVE the bright colors. We bought the larger size 10-13 for several of us cold-footed girls (because the smaller size that was supposed to fit were out) and they were perfect!

Cute Socks!

Posted by Miriam Aguirre on 19th Dec 2016

Really cute! Love the cotton!!

Kick Up Your Heels

Posted by Don on 18th Dec 2016

Add a little color to your life and kick up your heels as you dance your way through the revolution. With these tie dye socks, flash back to the 60's. For the young and young at heart.

My favorite socks!

Posted by Hollyce on 6th Dec 2016

I love these socks! They're a few years old and still look as vibrant as the day I bought them! They're comfortable, but never lose their shape. Even my teenaged kids and their friends admire and compliment them

Head turners!

Posted by Unknown on 7th Nov 2016

I ahave been wearing these socks for years, and I always receive positive comments on them and am asked where I got them. I now have 5 pairs!

I love these!

Posted by Unknown on 10th Oct 2016

After 6 years, I am needing to replace my pair of tie-dye socks. I have worn these so many times, and they are just now getting holes. I get lots of compliments on these very fun socks!

Fav casual socks

Posted by Deblynn on 10th Oct 2016

My husband often gets comments that ppl rally like these socks. He's rough on the heels, so he earns them when they wear through for more mileage from each pair. Now time for replacement pairs.

Whimsy for me

Posted by Janice on 26th Jul 2016

Love these socks! I had two pair for about 4 years, then my grandson took one pair, and I wore the others until finally got a hole in the heel of one, had to have two more pair....

Terrific

Posted by GWM on 30th May 2016

The socks were given as a gift after a prolonged stay in the hospital. I had never seen such vivid, vibrant colors. Fell in love with them on the spot and will wear them every chance I get.

Super fun!

Posted by Alexandra on 21st Mar 2016

Great colors, simple sock, fun to wear.

a good sock

Posted by BJR on 28th Dec 2015

I have both the tie die regular and lite socks and always enjoy wearing them. They are cheerful. Of course, they are also good quality, do not bleed when washed or worn, and are comfortable.

Quality, Warmth, Color-fantastic!

Posted by Margie Z., Wisconsin on 1st Nov 2015

Last autumn I did not see my new favorite brand of socks at my co-op--Maggie's Organics Cotton,of course. I asked about them and recently I saw them added back to the co-op's inventory: great news! There was a choice between brown, navy & eggplant so I chose one of each--all deep and just right for autumn colors . Still, I had to continue my quest for my ultimate favorites, the tie-dye. This was how I came to this website and, in addition to having the great feel and warmth of organic cotton, I now could add two more pairs to my newly-replenished stock of my favorite socks. The dye is bright, the colors are in an order that gives them a beautiful progression: maize-yellow to leafy green, to turquoise, then red and purple that sometimes mix like a sunset on a summer night, and sometimes are on their own; finally, at the top, there's a return to maize with splashes of bright orange. My last pair of these lasted through 3 years of frequent wearing. It was great to find them here online.

The Grooviest!

Posted by Nada Long on 9th Jul 2015

I started buying these socks for my son when he was in high school over 10 years ago. He still loves them to this day & I buy him new ones as needed (though they last a LONG time).

As a matter of fact, the latest ones we ordered are for my son's groomsmen to wear at his wedding. These socks are the best!

happy socks

Posted by on 29th Apr 2015

These tie dyed socks, both bold and lite, make me happy.
They launder well in the washing machine, keep their colors with no running, do not feel rough when dried, keep their shape, and feel good just like the other Maggie cotton crew socks.

Perfect : )

Posted by tiedyesocklover on 5th Dec 2014

Perfect : ) No complaints : )

My Son's Favorite

Posted by Nada Long on 24th Nov 2014

These are the only socks my son will wear – to work, to play, wherever! When my brother saw my son's socks, he wanted some too. We're a family of tie-dye sock lovers!

good quality

Posted by Unknown on 6th Nov 2014

Will see how they hold up over time, but very soft and comfortable